Your vehicle represents a significant investment and requires proper maintenance to maximize its performance. Our full service department utilizes state-of-the-art technology and highly trained certified technicians to optimize your vehicle's value, safety and fuel efficiency.
Whether you are driving the newest Toyota Tundra – or the oldest Subaru RS – on the road, we utilize factory approved parts . That means that the part that you get is made for your car.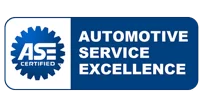 Your maintenance is completed quickly, inspections are thorough, and prices are extremely competitive. Unlike your average technician, there are no hidden costs or fees; we are ASE Certified Technicians who are not only factory trained on how to repair your car, but we care about you as a customer. We want to see you come back to us when you have a problem, and we care about your safety when you're out on the road.
In the event that you have your vehicle repaired by us, we can make arrangements ahead of time to drop off or pick up you or your vehicle. We know how important it is to have transportation, and often times waiting all weekend for a vehicle just isn't an option.
We believe in preventative maintenance for your vehicle. Be sure to check your manufacturer's recommended service schedule for your vehicle. We perform routine factory recommended services. Listed below are the service packages and a la carte services available. Since prices vary depending on vehicle year and model, please contact us for price quotes. When maintenance is needed, our shop will treat you and your vehicle with care and respect. Let us worry about it so you don't have to!
A la Carte Automotive Services
Air conditioning repair

Alignments

Annual brake maintenance (clean/lube hardware, caliper sliding pins and backing plate shoe contact points)

Automatic Transmission Fluid exchange

Brake fluid flush

Clean, lube and adjust brakes

Coolant exchange

Drivetrain repair

Electrical system

Emissions

Engine performance

Engine repair

Exhaust system repair

Oil changes

Power steering fluid exchange

Replace cabin air filter

Replace drive belts

Replace timing belt

Replace water pump

Replace wiper insert

Steering and suspension repair

Tire rotation (every 5,000 miles or 6 months)
Recommended Automotive Maintenance
---
Every 5,000/6 Months

Replace engine oil and filter
Perform multi-point inspection
Perform battery service and charging system test
Rotate tires upon request (additional charge)
Inspect tires and adjust air pressure
Inspect and top off underhood fluids
Visually inspect brake linings/drums and brake pads/discs
Reset "Maintenance Required" light

Every 15,000/18 Months

Clean, lube and adjust brakes
All 5,000/6 month services
Replace Engine Air Filter
Replace Cabin Air Filter
Lubricate Chassis if applicable
Tighten drive shaft/drive axle bolt(s) if applicable
Reset "Maintenance Required" light

Every 30,000/36 Months

All 15,000 /18 Month work.
Perform engine management system "Health Check"
Replace spark plugs if applicable
Replace brake fluid if applicable
Replace engine coolant if applicable
Replace Transmission fluid if applicable
Replace Front Differential fluid if applicable
Replace Transfer Case fluid if applicable
Replace Rear Differential fluid if applicable
Engine Wash
Replace key fob battery if applicable
Brands We Service
With over 100 years of combined experience.